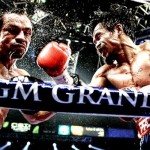 Legendary boxer Manny Pacquiao is down but not out and can be counted on  bouncing back to glory. So says a blog in Now Boxing.
I would agree with that. Pacquiao has never loss two bouts in a row in his entire career until now. A man who's won 8 division world championships and ten world titles didn't accomplish that without a lot of heart. It is that heart and fortitude that will bring Pacquiao's career back to its former glory.
Juan Manuel Marquez' knockout of Pacquiao in December left no doubt who was the better fighter that night. But lets not forget Manny's controversial defeat against Tim Bradley. It's would be hard to find anyone who actually agreed with the judge's decision that night.
As Charlie Knoxville of Now Boxing wrote: "What separates Manny Pacquiao from any other fighter is his drive and will to win. This same drive is what helped him survive the dangerous slums of General Santos City."
Read Knoxville's blog in Now Boxing and let AsAmNews know what you think.