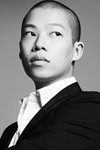 The country's pre-eminent Chinese American fashion designers are on display at the Museum of Chinese Americans in New York.
The exhibition curated by Mary Ping features contemporary designers such as Jason Wu (pictured here) and Carol Lim and all the way back to the 1980's with Vera Wang and Anna Sui, reports Vogue.
"Front Row: Chinese American Designers" runs through September 29, long enough for New Yorkers to see as well as those planning trips through the summer.
You can get a glimpse of the type of fashions you'll see in a pictorial essay in this month's Vogue.