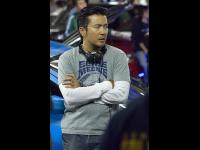 Filmmaker Justin Lin reviewed in an interview with ComingSoon.net that the character played by Sung Kang in Better Luck Tomorrow is really the inspiration for Han, the part played by the same actor in Fast & Furious.
When I did "Better Luck Tomorrow," the ending was so dark and open-ended. Everyone asked, "What happened to these kids?" "What happened to these kids?" When I came aboard "Tokyo Drift," I went and created a character for Sung. I thought, "You know? It should be Han. That's where he would go," said Lin.  "That inside joke has kind of grown. I don't think I've seen anywhere else where a little indie movie has grown into being part of a big tentpole franchise."
Fast and Furious 6 opens tomorrow in theaters nationwide. But Lin is already looking ahead to his next project.
"I'm getting together with John Ridley to work on the "L.A. Riots" project. I'm going to start working on the script with him and I'm very excited about that. In the last eight years, I've had the fortune to find a lot of stuff that I'm excited about. "L.A. Riots" is one of them."
You can read the entire interview with Lin in ComingSoon.net.