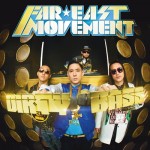 Sometimes it's better to just stay home. That's how the men from Far East Movement felt after a live performance on the local morning news program, Good Day New York.
J-Splif accidentally knocked over an audio console during the group's performance of "Turn Up the Love." It happened as J-Splif was doing a move he called "Texas Tornado/helicopter swing" spin."
The group eventually performed the song later in the program and laughed about it on 92.3 Now.
You can see the mishap here.