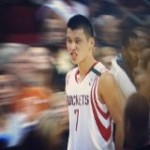 A report in the Sporting News that Los Angeles Lakers' Dwight Howard could force a trade that would send him to the Houston Rockets  for Jeremy Lin (photo by Howard Chen)  and Omer Asik is gaining traction.
Howard is a free agent in July and if he decides he's done with the Lakers, a league source tells the Sporting News a sign and trade may be the Lakers best option.
"I don't know if the Lakers can afford to be thinking long-term," one general manager told SN. "They sort of put all their eggs in this one basket, with Dwight, and if he wants to go, can you let him go for nothing in return? I don't think so. You'll be sending a bad message to Kobe Bryant, to (Steve) Nash, to the fans. They are selling championships there. You can't say, 'Trust us, we will have cap space later and maybe we'll sign someone then.'"
According to the Sporting News, the Rockets have the cap space for a deal which could force the Lakers into making a trade with the Rockets rather than come up empty.
A blog in the iSports Times agrees. Adding Lin to the roster would give the Lakers a good back up to Steve Nash who's expected to retire after the 2014-2015 season.
Lin would also give the aging Lakers some badly needed youth. The deal would also clear up cap space for the Lakers would could then make a run in the free agent market.
This isn't the first time a report has come out sending Lin to the Lakers. As far back as March, reports had Lin potentially going to the Lakers.  An earlier report in Sports Illustrated indicated the Rockets were sending out signals both Lin and Asik would be available in a trade after the season.
What do you think? Could the trade happen and would Lin be better off under the Hollywood glow of Los Angeles and Kobe Bryant than Houston? Share your thoughts below.