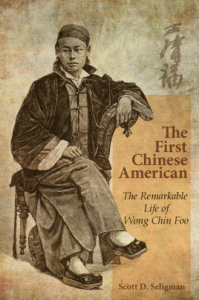 A new book, "The First Chinese American: The Remarkable Life of Wong Chin Foo," chronicles the life of the man who coined the term Chinese American, reports Sampan.
Wong Chin Foo (1847-1898), was a journalist, lecturer and political activist who defended his community from scapegoating and fought for civil rights.
"More than 70 years before Dr. King dreamed of an America that judged people according to the 'content of their character,' Wong Chin Foo defied those who wished to exclude Chinese by declaring that only 'character and fitness should be the requirement of all who are desirous of becoming citizens of the American Republic, '" wrote author   Scott D. Seligman.
According to Seligman, Wong fought tirelessly for justice despite numerous assassination attempts on his life.  He founded New York's first Chinese newspaper in 1883 and is described as the most visible Chinese advocate of his time.
You can learn more about Seligman's book in Sampan.