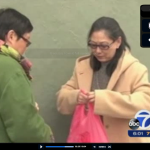 The San Francisco District Attorneys office has announced the first successful prosecution of the blessing fraud case in the country, reports ABC7 News.
In the city alone, more than 50 victims have been defrauded out of $1.5 million dollars.
A victim who helped police apprehend four suspects told ABC7 how the scam works.
Susie Wong says she was approached by three women.
"Number two also says to me 'it would be very nice for you to have a new friend,'" Wong said through a translator.
"Number three told me that there's going to be calamity in my household," Wong said. "Your son is going to die in three days and then my husband is going to get really ill. They also told me and scared me that a ghost followed me home and the ghost wants to marry my son."
She was talked into bringing all of her valuables so the women could bless it and remove the evil spirits.
Wong went home supposedly to get her valuables. But instead she went to police. She recalled seeing warnings in a public service spot on TV about the scam.
Undercover officers went back to the scene and arrested the three as they were trying to scam another victim.
All three have been prosecuted. Wong is being called a hero.