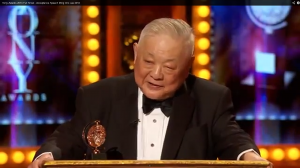 Ming Cho Lee, who designed many Broadway sets and chaired the Design Department at Yale for 43 years, has been awarded a Tony Lifetime Achievement Award, reports Asiance.
Among his many credits is the Tony Award-winning set for K2, as well as designing the sets for   "Little Murders," "The Shadow Box," and the musical "Two Gentlemen of Verona.
Lee gave a light hearted acceptance speech, choosing to highlight what he said were failures, saying "I have more flops than anyone can count…even in failing there may be something in there."
You can seehis entire speech in Asiance.