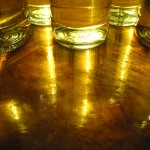 Binge drinking among Korean Americans is higher than any other Asian American group, according to a study published by the National Institute on Alcohol Abuse and Alcoholism.
KoreAm talked to Lee Hae-kook at South Korea's Catholic University Medical Center who led the study.
"The Korean culture tends to be very permissive with drinking from a social standpoint," said Lee.  "Ironically, being an alcoholic is considered taboo among Koreans, but there's an understanding that drinking is an essential part of networking and that it's something that's necessary for people to get along at their workplace."
8,900 Asian Americans from five different subgroups were interviewed for the study. 24.6% of Korean Americans surveyed reported that in the past month they had been binge drinking. which is defined as consuming five or more glasses of alcohol in one sitting. That's two to three times  more than any other Asian American group. That's also 10% higher than the general U.S. population.
"With Korean Americans, there's tension or a sense of difference that comes from being immigrants. The ones who struggle to find other means of leisure, hobby or even volunteer work tend to treat drinking as their only way of relieving stress, which is problematic.  It's imperative that the Korean American community realizes that some radical changes are needed in its culture."
You can read more of this interview with Lee in  KoreAm.