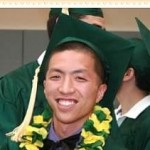 This update came in this morning from "Justice for Aya":
Reward of $35,000 (All tips will remain confidential!) Justice for Aya Nakano! To the community, please help us apprehend these criminals. Follow-up & keep Aya's story alive! The criminals cannot be left out on the streets prowling on innocent victims! Summary of incident: WHEN: June 12, 2013 at approximately 10:57 PM WHERE: 5800 block of Market Street corner of Stanford Ave. Oakland, CA (facing southbound in the vicinity of Trung Hand Car Wash & ASA Liquor Store) Aya was driving back to his home from the Cal Rec Center, when his silver Jeep Cherokee was rear-ended by the suspect vehicle driven by 2 occupants. The occupants in the sedan fatally shot Aya. The suspect vehicle is described as a newer, silver 4-door sedan with a possible front-end damage. There is a $35,000 reward for information leading to an arrest. Please call: CRIME STOPPERS 1800-222-TIPS (510)777-8572 Oakland PD Homicide (510)238-3821 E-mail: oaklandhomicide@oaklandnet.com
Friends of a recent college grad who was shot and killed in Oakland, CA after being rear ended in a fender bender have established a $25,000 reward fund , reports the Almanac.
A check of the website GoFundMe show friends of Aya Nakano as of this morning have raised more than $16,000 towards their goal.  Combined with other money being offered, the reward is now $30,000 for information leading to the killer, according to KGO-TV/ABC7 News.
Nakano was driving from a pick up game of basketball with his friends when his vehicle was struck by the suspect's car, according to police. The University of Oregon grad pulled over and got out of his car. That's when the suspects confronted him before shooting and killing him.
A celebration of Nakano's life will be held tonight at the Homer Center on the Sacred Heart Preparatory campus, 150 Valparaiso Ave. in Atherton.