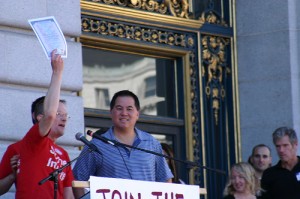 Reaction in the Asian American community was largely positive to two Supreme Court rulings that brought the nation closer to marriage equality.
The court ruled 5-4 that the section of the Defense of Marriage Act or DOMA defining marriage as only between a man and a woman violates equal protection by disregarding state law protecting same sex couples.
The high court also dismissed an appeal attempting to reinstate Proposition 8, California's ban on same sex marriage.
"My heart swelled with happiness for our children and others in the community," said Clara Yoon, the mother of a transgendered man told New American Media . "Today's decision gives me hope that there is progress being made for LGBTQ equality."
In a statement published in Asian Week, Asian Americans for Advancing Justice said about the DOMA case, "The ruling is a tremendous step forward for the ongoing civil rights movement in this country. Lifting this discriminatory law will allow all marriages to be seen as equal in the eyes of the federal government and will provide same-sex married couples access to countless federal benefits-including  tax, health and social security benefits-that will ensure more stability and security for individuals and families."
The SCOTUS ruling on Proposition 8 reinstates a trial court's ruling that overturned the ban on same sex marriage. Supreme Court rulings normally take affect in 25 days, but  but  California Attorney General Kamala Harris called on the Federal Court of Appeals to immediately lift its stay on the trial court ruling, reported the Press Enterprise.
That would pave the way for same sex marriages in California to resume immediately.