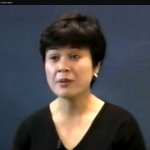 Lorna Gail Tiangco Schofield grew up as the only Filipino in the small blue collar town of New Haven, Indiana, reports GMA. In fact she was the only Asian, and one of the few people of color. She recalls one African American and two Hispanic classmates.
She admits she had little awareness of being Filipino.
"I didn't have much of an Asian identity," she said. "The people of Indiana overlooked the fact that I was different…that my mother spoke with an accent."
Yet when Senator Charles Schumer recommended her to be nominated to a federal judgeship and President Obama agreed, it was the Filipino community which warmly embraced her and reached out to her.
Since then she has been speaking in the Filipino community at various events. She recognizes that the push for diversity if responsible for her being the first Filipino American federal judge in the country.
She says she will try to give back to the Filipino community whenever asked.