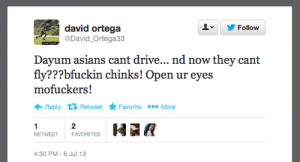 You have to really wonder. Are there really that many closet racists out there?
The blog site Public Shaming posted a series of ridiculously racist tweets after the crash landing of Asiana Flight 214 that originated from Shanghai with a stop in Seoul before arriving in San Francisco.
This theme seem to be a common one.
@david_ortega33 tweeted "dayum asians can't drive…nd now they cant fly??bfuckin chinks! Open ur eyes, mofuckers.
This chink has opened his eyes and sees that no one's taught David proper English and spelling.
Others apparently need a geography lesson.
@chrisjune215 tweeted "They saying the plane that crashed was from North Korea? Coincidence?