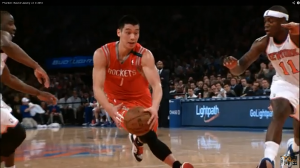 Houston Rockets General Manager Daryl Morey says his teams two biggest stars want to play with Jeremy Lin and Omer Asik, reports CBS Sports.
"The reality is James (Harden) and Dwight (Howard) want to play with Jeremy and Omer," Morey said. "I've been kicked down to assistant GM. They're going to be here."
A widely rumored deal for Josh Smith that would have sent Lin to the Atlanta Hawks never materialized. Smith ended up signing with the Detroit Pistons.
This is the latest signal from Morey that Lin and Asik will stay with the team. He had said earlier that he had no intention of trading the two players, but that just seemed to ignite more discussion about the where the two, especially Lin, would end up.
For now, no deal appears to be in the works and we may very well get to see Lin teamed up with Howard.
Now the question remains will Harden still insist on controlling the ball most of the times or will he allow Lin to distribute like he was hired to do?
How will coach Kevin McHale work both Howard, and yes Linm into the offense. Last season he chose to relegate Lin to being a spot up shooter. Hopefully that doesn't happen again this year. McHale's coaching prowess will be tested in the 2013-2014 season.
Expectations will be high from both fans and the Rockets ownership. Same with Lin.
If he is given a chance to produce, every expectation is that he will do well. If not, Linsanity will truly be dead.
What do you think? Share your thoughts below.