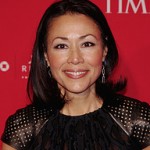 USA Today reports that NBC's Koda Kotb who currently co-hosts the fourth hour of the Today Show with Kathie Lee Gifford is in the running to co-host "The View" on ABC.
The publication says Kotb is trending online as a contender for the slot.
ABC has reportedly denied the rumors.
USA Today also suggests that Ann Curry could be in the running. While Ann would add a unique perspective to "The View," I just don't see it happening. You might recall Curry was supposedly going to jump to CNN, but NBC reportedly refused to let her out of her contract.
If NBC won't let Curry go to a Cable station, does anyone really think she would be allowed to jump to a rival broadcast network?
ABC recently announced Jenny McCartney would be joining the cast on "The View," but it still has a second slot to fill with the recent departure of Elizabeth Hasselbeck and exit later this summer of Joy Behar.
You can read the list of other possible contenders to join "The View in USA Today.