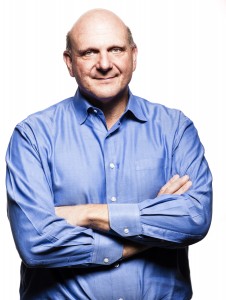 The names of three Indian Americans have been mentioned as possible successors to Microsoft Chief Executive Officer Steve Ballmer (pictured left), reports India West
Ballmer announced last week he would retire and leave the company within 12 months.
Among those mentioned to succeed Ballmer is Vic Gundotra, Google senior vice president of social media
 Gundotra worked at Microsoft for 15 years before leaving in 2006.
Former Motorola co-chief executive Sanjay Jha recently resigned from the company after it was acquired by Google.  He has been mentioned on the shortlist of other top jobs at other companies as well.
 Long-time Microsoft executive Satya Nadella is rumored to be Ballmer's choice to succeed him. Nadella is lauded  for his work in cloud computing.
 You can read about others who are being mentioned to succeed Ballmer in
India West
.