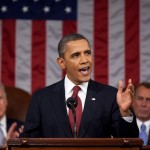 In a speech carried live today by ABC, NBC and CBS as well as the cable news networks, President Obama gave his assessment of what Emil Guillermo described in his blog for AALDEF as falling short of being a  "State of the State of Race in America."
The speech coincided with the 50th anniversary of the March on Washington and Martin Luther King's "I Have a Dream" speech.
It was a speech inclusive of Asian Americans and all minorities.
"Because they marched, America became more free and more fair–not just for African Americans, but for women and Latinos, Asians and Native Americans; for Catholics Jews, and Muslims, for gays, for Americans with a disability. America changed for you and for me, and the entire world drew strength from that example…" said the President.
As Guillermo put it, "It's a mouthful. But it was necessary."
What do you think? Are inclusive speeches like the Presidents becoming trite, or are they important in making all of us feel a part of the United States of America.
Read Guillermo's blog for AALDEF and let us know what you think.