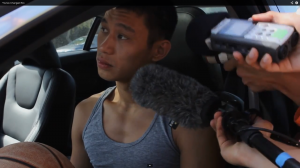 Jeremy Lin is back to being the underdog. It's a role he's familiar and comfortable with.
In a question and answer with Jason Friedman for Rockets.com, Lin says its a role that's followed him his entire life.
"It's funny, my whole life has been like, 'He can't do it, he's not good enough,' and then something happens and I kind of breakthrough a little bit," said Lin. "Then after a while it's like, 'Sure he's here, but he can't make it to the next level. He made it to college but he can't make it to the pros,' and on and on. That's been the cycle I've been going through. Now it's, 'OK, Linsanity happened but he can't maintain it.'
"So I'm definitely more comfortable in the underdog role and I definitely feel like I'm back there once again."
Jeremy talked about going one on one against Dwight Howard in some workouts and bonding with his new teammate. We also get Lin's thoughts on his good friend Chandler Parson's new dating advice column.
On a more serious note, he talked about working on his jump shot. He also says it all about the attitude.
"I'm just going out there to play and not worry about anything: about proving myself to anybody, or proving my worth, or trying to live up to a contract, or whatever. I'm just going to go out there and play completely free of all the expectations and all the noise, the pressure. With the signing of Dwight and the emergence of James, there's going to be a lot more spotlight, but for me it's just a matter of going in everyday and doing my best. I'm just going to play the way that got me here."
You can read the entire interview on Rockets.com.