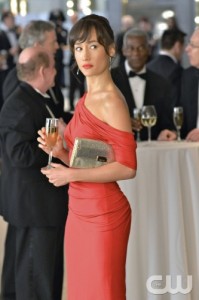 Maggie Q will soon end her successful run as the star of the CW show Nikita as the show's fourth and final season begins tonight.
Television critic Mike Hale of the New York Times wrote that Q's role alongside that of Lucy Liu in Elementary on CBS are "two of the strongest and most interesting female leads on television."
Both happen to be played by Asian Americans in roles not specifically written for an Asian American.
Liu plays Joan Watson in an update on the Sherlock Holmes story.
Hale writes:
Nikita and Joan are noncartoonish, reasonably complex, multidimensional characters, and in prime time, there aren't too many actresses getting that kind of opportunity in a lead role. Julianna Margulies in "The Good Wife," Connie Britton in "Nashville," Claire Danes in "Homeland," Lizzy Caplan in "Masters of Sex." It's a short list.
Hale points out Liu and Q are playing roles contrary to the usual image of Asian American women in the media.
Would you agree? Read Hales story in the New York Times and leave your comments below.