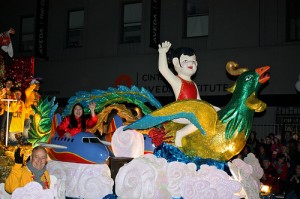 Pier 54 in San Francisco is where the parade before the parade takes place.
A parade of workers are scrambling to put the last minute touches on the 22 floats that will motor up the streets of San Francisco come Saturday. (photo by Robert Raines)
KTVU got an inside glimpse of the final preparations for what is the oldest and biggest Chinese New Year's celebration outside of Asia.
"We work so hard putting all these little pieces together," said artist Liz Hui of San Francisco.
You can see some of the work being done in the video clip below from KTVU.