(Note to editor: Dina Yuen is an activist, author, broadcaster, chef and entrepreneur. Her dream is to bring the stories of iconic Asian Americans to television. In her words, "every voice matters to prove to Hollywood executives that it's time for change." She's launched an Indiegogo campaign to help bring her dream to reality.)

Tell us about yourself, Dina.
I spent my childhood and teenage years between San Francisco and Southeast Asia so I've always felt very close to both my American and Asian roots. After several years of traveling extensively throughout Asia, I decided to dedicate my life to building a company that celebrates Asian culture and people. I'm currently working on my next few books, several product lines and developing a TV show.
I understand you have been involved in fighting human trafficking. What have you done and why is this such an important issue for you?
In my 20's I spent some time working with various groups to rescue little girls forced into prostitution. As a woman and as someone who loves children, the decision to get involved in fighting human trafficking was a no-brainer. Human trafficking of any kind is a horrid part of humanity that should be eradicated completely but I felt a special need to address the trafficking of innocent 3 to 12 year old girls who were kidnapped from their families. Despite having witnessed these atrocities first hand, it is still mind boggling that there are men who could commit these kinds of atrocious crimes. I grew up safely thanks to loving and protective parents and maybe partially thanks to luck. There are children who get kidnapped even with parents who are very watchful so human trafficking could effect any of us when we're children and anyone who is a parent.
How do you go from fighting human trafficking to giving beauty tips and recipes?
I don't think any person is one dimensional. We all have various interests, passions and skills. I'm a woman who fights for the rights of little girls forced into prostitution but I'm also a multi-dimensional human who enjoys eating with family and friends and who has fun with fashion and skincare. I went to culinary school as a child and went on to publish my debut cookbook in 2012 so I have fun sharing my recipes with fans on my website. From that growing fanbase, a big part of which is female, I've gotten countless emails asking for tips on skincare and fashion, which is why I created the Beauty and Product Reviews sections on my site. What I share with my fans evolves as all of our interests evolve and expand.

What is an iconic Asian?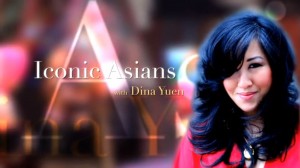 An Iconic Asian is someone of Asian descent who has made significant contributions to their local communities or to the world through his/her life achievements. He/she can be of any profession, any financial bracket and any age. An Iconic Asian inspires us to improve ourselves and achieve big dreams through hard work.

Why is doing this program so important to you?
Having spent part of my childhood years in America, I was constantly torn between which culture (American or Asian) to assimilate to. I was also bullied for being Asian which led to my hating being Asian for a short period in my childhood. Growing up, I realized how wrong my attitude was and how deeply I loved Asian culture and traditions. I knew that there were many other Asians who experienced similar struggles, who never had any Asian heroes to look up to in the public eye the way other racial groups had. I created Iconic Asians to fill that void, to show Asians in America and around the world that there are awesome, inspirational Asians living awesome, inspirational lives.

Where would it be shown?
I'm still in discussion with several networks right now and part of the goal of this campaign is to prove that there is significant support from the Asian American community for an Asian-focused show on American networks.

Why should someone contribute to your Indiegogo project?
Anyone of Asian descent who cares about Asians being represented in a positive light in American entertainment should support this campaign. Anyone who is tired of seeing Asians portrayed in the stereotypical roles of prostitutes, maids, caricature geeks and hyper-sexualized she-devils should take an active stance here. Non-Asians who have an appreciation for Asian culture and people would also enjoy this show.