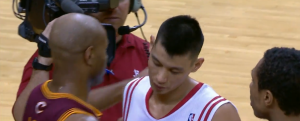 The day after a frantic hustle play by Jeremy Lin in overtime and an assist to an open Troy Daniels for the trey, people were still talking about it.
The play broke a 116 – 116 tie in overtime with just 11 seconds remaining and assured the Rockets would not be swept in the first round playoff series. The Blazer lead the series 2-1.
The victory narrowed the Blazers lead in the first round playoff series to 2-1.
You can check out the pivotal play in the clip below.
Lin was his usual modest self after the game pointing out the other players made key plays as well.
He was also appreciative of Daniels efforts, who not too long ago was playing in the D League.
You can watch Lin's post game interview below.
Lin's contributions weren't limited to assist. He scored 13 points on 5 for 11 shooting and made a key jumper.
Game four in the series is tonight at 9:30 Eastern/ 6:30 Pacific