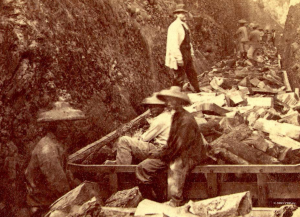 Chinese immigrants who built the Transcontinental Railroad 145 years ago will be inducted into the Labor Hall of Honor this Friday, reports Sahara Samay.
They will be the first Asian Americans to get into the Hall since it was established in 1988 in Washington, DC.
"Many of these workers risked their lives and even perished from the harsh winters and dangerous working conditions. They faced prejudice, low wages and social isolation. Yet, despite these challenges, they courageously took a stand to organize for fairer wages and safer working conditions," the Department of Labor said.
"Their efforts not only stitched our nation together, but also advanced the American ideals of equal opportunity;collective organizing and good, safe jobs for all workers,immigrant and American-born alike," it said.
President Obama also issued a proclamation in their honor. You can read that in the Sahara Samay  .
You can also read about efforts by Chinese Americans to correct an injustice committed against these workers here.