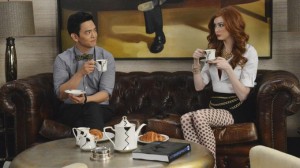 This is the time of year when the TV networks roll out their fall schedules, and shows on the bubble are escorted out the door.
One new show that's already been announced by ABC is Selfie starring John Cho and Karen Gillan, according to Up & Comers.
Selfie has a type of plot line that appeals to the young demographics that advertisers love.
Cho plays Henry, a public relations specialists who take on  Eliza Dooley as played by Gillan as a client.
Dooley has just taken a bashing on social media and its up to Henry to upgrade her image.
The show is a modern day version of My Fair Lady which should also give Selfie appeal to an older demographic that doesn't necessarily get excited by social media.
Look for a romance to brew between Henry and Eliza.
You can read more about the buzz about Selfie in Up & Comers.