We have to give a shout out to Justin Lin (pictured), one of the most powerful Asian Americans in Hollywood.
We've showered a lot of love to Asian American actors and actresses in recent days as the networks slowly roll out  their fall line ups, but Lin is certainly as big as any of them.
CBS has announced its picking up his crime drama Scorpion, reports Deadline.  It's the story of super genius crime fighters who take on the world's worst criminals.
Lin is on board as both director and executive producer. It will also feature Jadyn Wong  and stars Elyes Gabel who is a South Asian Brit who has appeared in World War Z and Welcome to the Punch.
Tim Kang (pictured right) will be returning for season 7 of  The Mentalist on CBS. The show had been on
the bubble after falling to its worst ratings ever in season 6.  The Hollywood Reporter says its unclear how many new episodes have been approved.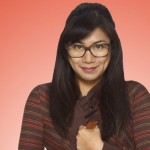 Unfortunately Super Fun Night has been cancelled. The trio of three young women trying to navigate their social lives and popularity or lack of it never caught on with viewers. It co-starred Liza Lapira who is of Filipino, Spanish and Chinese descent.