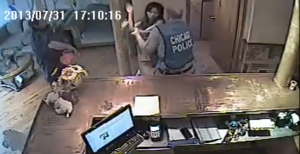 A video released by an attorney who filed a lawsuit against the Chicago Police Department shows an officer slapping a 110 pound salon manager while she is handcuffed on her knees, reports the Chicago Sun Times.
It happened during a vice raid of the Copper Tan and Spa in Noble Square last summer.
Other officers are heard on tape screaming to the naturalized citizen from China "You're not a f**king American.
""I'll put you in a UPS box and send you back to wherever the f**k you came from. we'll f**king kill you . . . You'll be dead, and your family will be dead."
An Independent Police Review Board is investigating.
You can find out more details about this incident in the Chicago Sun Times.
You can watch the surveillance video below.