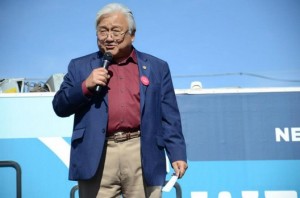 A blog in the Daily Kos blasted Ro Khanna for implying in a new ad that the person he wants to replace in Congress, Rep Mike Honda, is too old.
The blog by David Nir calls Honda a "widely respected lawmaker and a political mentor to many in the Asian American community…a veteran Democrat and beloved progressive stalwart."
Nir described the ad as "transparent" in its attempt to paint Honda as too old to serve.
"Isn't it time to put the old politics aside?" said the narrator in the ad.
Khanna, according to the narrator,  "is ready for the Congress of tomorrow, while Honda is a politician of the past."
Check out the ad below. What do you think? Is the commercial fair in love and war or is it below the belt even for politics?