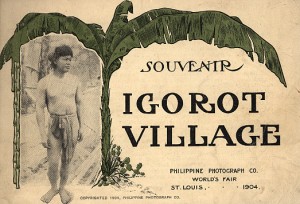 In 1899 Judge Magazine showed President William McKinley scrubbing a Filipino boy and saying "oh, you dirty boy ."
It is one of many similar racist images compiled in The Forbidden Book written by Abe Ignacio, Jorge Emmanuel, Helen Toribio, and Enrique de la Cruz.
The Inquirer reports the book is a compilation of images during the Philippine-American War.
Three years after the war ended in 1902, 25 Filipinos were part of an humiliating display at the 1904 St. Louis World Fair. A blog post at the SF Main Library described the show as "never too far from the stalls of 'dwarfs,' 'bearded ladies,' and the like.(Photo from lib.udel.edu)"
These type of shows did much to further the stereotype of Filipino Americans as dog eaters.
You can read more about the history of these racist images in The Inquirer.