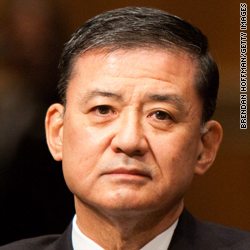 Eric Shinseki has resigned as Veteran Affairs Secretary just days after an inspector general report confirmed 115 day wait times for appointments at the Phoenix VA and a system set up to conceal it, reports USA Today.
President Obama said he accepted the resignation because "We don't have time for distractions. We need to fix the problem."
Earlier today, Shinseki apologized to all veterans and the nation before a group of homeless veteran advocates who gave him a standing ovation.
"I can't explain the lack of integrity among some of the leaders of our health care facilities. This is something I rarely encountered during 38 years in uniform. And so I will not defend it because it is indefensible," Shinseki said.