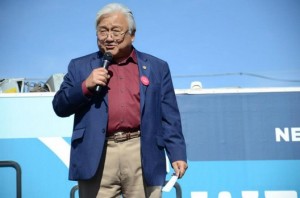 Supporters of comprehensive immigration reform say the upset defeat of Republican leader Eric Cantor (R-VA) doesn't mean the end of immigration reform, reports ABS CBN.
Cantor was defeated by Tea Party candidate David Brat who ran on the platform that Cantor was too accommodating to Democrats.
The reality is Cantor blocked significant pieces of legislation pushed by the Obama administration.  While he is more moderate than Brat, Cantor was no friend of liberals and progressives and certainly not the Obama administration.
"The immigration reform is extremely popular," Rep Bobby Scott (D-Va) said. "If the Senate bill were brought up for a vote, it would pass the House. It is extremely popular even in Republican districts. So if we just bring it up, we can pass it."
"We need 218 votes," Rep Mike Honda (D-CA) said. "We got 197 Democrats, 3 Republicans, that's 200. We need 18 votes, and we just have to have Boehner put it on the floor."
Meanwhile, some see another way for undocumented Filipinos in the United States to gain legal status.
You can read more about that on ABS CBN.