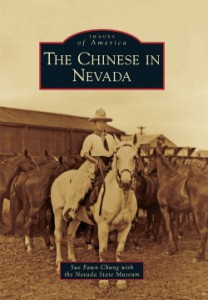 Chinatown in Las Vegas didn't spring up until 1995 when James Chen brought seven acres to open restaurants, retail shops and even a Mandarin bookstore, but the history of Chinese in Nevada dates back to the 1850s.
The Las Vegas Review Journal recalled some of that history as part of its series of stories Nevada 150, the history of the Silver State.
Some of the early Chinese immigrants came to the United States lured by the California Gold Rush. But when resentment began to build against the Chinese, many migrated east into Nevada.
"When coming to Nevada, they were asked to dig irrigation ditches for the miners in Genoa and Dayton," said Sue Fawn Chung, a history professor at UNLV.
They worked primarily in three industries– mining, railroad construction and woodcutting. Chung says 70 percent of the woodcutters in Nevada were Chinese.
All these roads that were built, we take for granted," Chung said. "Without Chinese workers, the West wouldn't have been settled as fast as it was."
Many of the Chinese began settling in railroad towns like Winnemucca, Lovelock, Carlin and Elko. Discriminatory laws such as the 1882 Chinese Exclusion Act made immigration difficult and the Chinese population began to dwindle.
You can read about the erection of joss houses that surrounded many Chinese communities and much of the history that has been lost in the Las Vegas Review Journal.
Plus you can check out a special program on Chinese and the Nevada Railroads in the clips below.