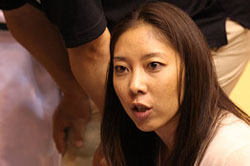 Natalie Nakase has done something no other women has done before her.
She has sat on an NBA bench as an assistant coach, reports NBA.com.
The 34-year old doesn't mince words when it comes to her dream.
"To be a head coach in the NBA," Nakase said.
She had worked two years as a video intern for the Los Angeles Clippers when the team asked her to be an assistant coach in the NBA Summer League.
Nakase is no stranger to being a ground breaker. She is the first Asian American to play in the WNBA and she is the first women head coach in the Japanese men's basketball.
Nakase says being a coach is a natural fit for her.
"It actually feels like home," Nakase said. "It's something that I've done for the past five or six years since I stopped playing basketball. Being right on the bench, being able to communicate and help players, talk to the coaches, strategize, that's my comfort zone."
How have players reacted to her. You can read about that in   NBA.com.