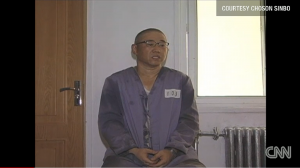 An American missionary imprisoned in North Korea for almost two years feels like a forgotten man.
Quoting from the pro-North Korean newspaper Choson Sinbo, NDTV reports that Korean American Kenneth Bae is appealing to the US to help secure his release.
"I request that the U.S. government soon dispatch a special envoy that the government … can accept so that my problem can be resolved," Bae told the newspaper.
Twice, North Korean officials have canceled a planned meeting from US Special Envoy Robert King to discuss Bae's release. Some speculate North Korea does not consider him senior enough. According to Choson Sinbo, Bae feels abandoned.
He was arrested for unspecified crimes against the state and has acknowledged conducting religious services in North Korea which has been hostile to foreigners pushing religious causes.
Bae is from Washington state and his family has been waging a public campaign to win his release.