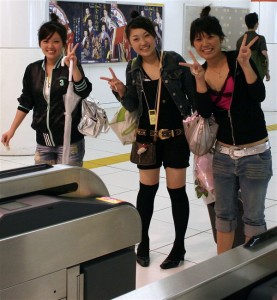 TIME Magazine recently ran a story about the much-disputed roots of the V-sign often flashed by Asians in photos. The possible origins of the pose  include the following:
1. When American figure skater, Janet Lynn, fell during a performance during the 1972 Olympics in Japan – essentially, losing her chance to win the gold medal – she smiled charmingly instead of grimacing at the flub. After the games, she became a Japanese icon and habitually flashed the V-sign during the media storm that followed.
2. The V-sign began appearing in manga (Japanese comics), including the popular series Kyojin no Hoshi (Star of the Giants) and the volleyball manga Sain wa V! (V Is the Sign).  The V-sign was entering the mainstream in Japan.

3. Jun Inoue, the Japanese singer from the popular band the Spiders, became a celebrity spokesperson for for Konica cameras, and supposedly flashed a spontaneous V-sign during the filming of a Konica commercial.
These  incidents combined with the rise of kawaii – a visual culture that elevates superficial cuteness or innocence, took off and encouraged more women taking photos to pose with the V-sign. The pose is  popular much in the same way the "duck face" is all over social media sites like Instagram today. Apparently, the V-sign is recommended by Japanese women as a way to make the face appear smaller and cuter in photos.
You can read more about the victorious origins of the V-sign in TIME.