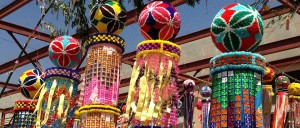 A nine-day festival showcasing Japanese American culture gets underway today in Little Tokyo in Los Angeles, reports the Mercury News.
The 74th annual Nisei Week Japanese Festival is one of the longest running ethnic festivals in the United States.
A big bulk of those in Little Tokyo are not Japanese Americans, but whites and Koreans who live there.
"Little Tokyo doesn't draw (Japanese and Japanese-Americans) anymore because there are places like Torrance, Gardena, Palos Verdes and even the O.C. with Japanese markets," said spokeswoman Diane Tanaka Suzuki . "So they don't have to come in. …Asians don't tend to be where these cultural, historical areas are."
The week also includes the 6th Annual Tanabata Festival, a gyoza eating championship and Ramen Festival.
For a full list of events, including a parade, Taiko Festival and tonight's Nisei Week Queen's pageant, you can go to the festival's website.
(Note: This is updated from an original version of the story to better reflect the quote from Suzuki)