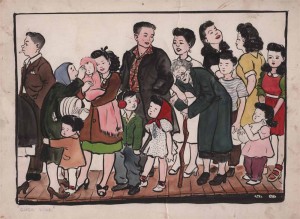 The Oregon Nikkei Endowment in Portland continues its 25th anniversary season with the new exhibition Art Behind Barbed Wire: A Pacific Northwest Exploration of Japanese American Arts and Crafts Created in World War II Incarceration Camps.   The Nikkei Endowment was created to preserve, educate, and honor the history and culture of Japanese Americans in the Pacific Northwest and to advocate for the protection and civil rights for all.
 During World War II, over 120,000 persons of Japanese ancestry in the United States were forcibly removed from the West Coast by their government and incarcerated without trial in remote concentration camps.  Art Behind Barbed Wire features arts and crafts gathered from former internees, their families, and the greater Pacific Northwest community.
Largely made from scrap and found materials, this powerful collection is a testament to the spirit, strength, and creativity of Japanese Americans who created beauty in the harshest of physical and human conditions. On display are irreplaceable artifacts such as carved wooden bird pins, brooches made out of shells, dolls formed through scraps of personal clothing, inlaid furniture fashioned out of scavenged sagebrush and greasewood, and paintings depicting life behind barbed wire.
 Art Behind Barbed Wire is a collaborative traveling exhibition between the Oregon Nikkei Endowment's Oregon Nikkei Legacy Center and the Japanese Cultural and Community Center of Washington's Northwest Nikkei Museum. The arts and crafts on display have been secured by visiting the homes of community members located in greater Portland, throughout Seattle, and across the Puget Sound.
As a multimedia exhibition, the stories behind these true treasures are shared in the exhibit gallery through quotes, storyboards, and video interviews with the lenders. According to Barbara Yoshida Berthiaume, "These creative works of art [represent] incredible acts of courage; the quiet courage of people who are put in the worth circumstances and find it in them to rise above it and make things that are truly beautiful."
This exhibition will be on display at the Oregon Nikkei Legacy Center, a Japanese American museum located in the heart of what was once Portland's Japantown, through October 19. The voices and humanity of those unjustly deprived of their civil liberties are remembered through their art created behind barbed wire.
 The Oregon Nikkei Legacy Center is located at 121 NW 2nd Avenue, Portland, Oregon and the exhibit will be open from Tue-Sat 11AM-3 PM and Sun 12-3 PM. Admission is $5 and free to members of the Oregon Nikkei Endowment. Updates on affiliated exhibit programs can be found on the organization's website at www.oregonnikkei.org. For information, call (503) 224-1458.