After leaving Bangladesh, I quickly entered India through Kolkata (Calcutta), the home of Mother Teresa, and the largest city on India´s east coast. I was here four years ago and its griminess has not changed.  The large scale use of hand-pulled rickshaws is one of its few charms if  you can even call it that.
I did not linger long, flying on to the mountainous region  of Ladakh in the far north of India. The people in the area are primarily Tibetan Buddhist, but there is fascinating mixture of Muslims from nearby Pakistan, Sikhs from Punjab and of course, local Hindus who seem oddly to be in the minority. Away from the humidity of the lowlands, the capital of Leh is refreshing and frequented by many foreigners, the first I have seen in a month. They come to admire the scenery, visit the monasteries and hike the many mountain trails with some taking treks that go for several weeks.  However, at 11,566 feet, Leh takes a few days to get acclimated. After two days, I  was confident enough to go on a jeep trip that took 6 hours to get to Pangong Tso, a lake that spans the border with China. Permits are required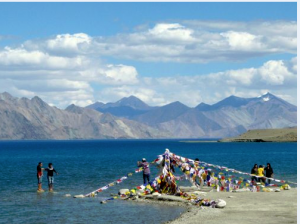 for this journey and I had to stay on the western third of the lake. Luckily for me, I felt no ill effects from its 14,100 feet elevation and I spent a peaceful night in a simple bungalow not far from the shores of the lake. The colors of the lake  and the surrounding mountains seemed to change hourly as the sun shifted its position during the day, a real spectacle of light and shadow.
To get to the lake, the jeep went over Chang La Pass which stands at an incredible 17,688 feet. I have been at 15,000 feet a few times  but never this high. I thought of staying in the car to avoid any exertion that might bring about altitude sickness but this was not necessary. I was able to walk around, take some photos and enjoy some hot tea. One of my five companions in the share-a-ride jeep experienced lightheadedness and had to take it easy so I consider myself very fortunate.
My group turned out to be a great bunch of people. There were two guys from India who had just completed a trek that went over 20,000 feet, a South American girl, her boyfriend (an American-Jewish fellow from San Diego who just graduated from UCLA) and an older Canadian woman who was studying Tibetan Buddhism in Leh. During the two day trip, many spirited discussions and hearty disagreements, especially about religion, took place. But this made for a lively and fun group.
We enjoyed each other´s company so much that after returning to Leh, the group (except for the Canadian lady),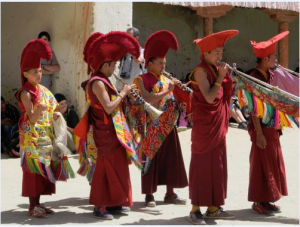 dined together and spent the next day at Phyang, a Buddhist monastery outside of Leh that was holding its annual festival. Traditional music and dances were performed by monks dressed in elaborately colorful costumes and headdresses. Face masks were the order of the day; they ranged from pleasant to hideous and frightening. Our return trip to Leh was aboard a minibus so overloaded that my companions had to ride in the luggage rack attached to the roof of the bus. I was too chicken to join them so I had a regular inside seat for the 40 minute journey. I had survived the mountain altitudes; I wasn´t going to risk my life on top of a rickety bus bumping over uneven Indian roads.
However, I ignored the normal rules of safety the next day as I followed a massive anti-Israeli, anti-American demonstration held by the Muslim population of Leh. There must have been over 5000 protestors (Leh only has 28,000 people, most of them non-Muslim) so this was a significant turnout. The city´s Muslim school children (boys and girls ages 7-18), over a thousand by my estimate, led the procession through town. They were followed by bands of loud and raucous men who chanted slogans supporting the Palestinians. Oddly enough, no adult Muslim women took part. As the march proceeded, Tibetans, Sikhs, Hindus and some foreigners stood on sidewalks, looking on with bewilderment and great interest, some of them snapping photos with their cellphones. Indian police, notable in their khaki uniforms, stood by with batons, night sticks and the occasional machine gun and tear gas launcher. The parade ended at the city´s polo ground where speeches were made exhorting everyone to support their brethren in the Gaza Strip. As it turned out, the demonstration was peaceful and I was in no danger. Besides, no one would guess that I were American. Lucky me.
[photoshow]