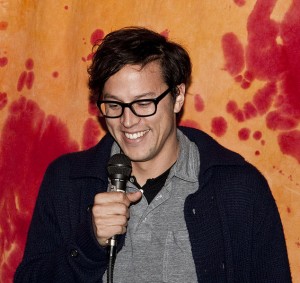 Cary Fukunaga took home the Emmy last night for outstanding directing for his work in HBO's True Detective.

According to IMDB, his father is Japanese and mother is Swedish. He was born in Oakland, CA.

Many on Twitter made note of his victory.
RT @ebeh: RT @USATODAY: The #Emmy for best directing in a drama series goes to Cary Joji Fukunaga for "True Detective"

— Nichi Bei Foundation (@nichibei) August 26, 2014
Cary Fukunuga is the first Asian-American to win Best Director for a drama series at the #Emmys

— Imran Siddiquee (@imransiddiquee) August 26, 2014
I have not been able to confirm that he is the first Asian American ever to win the award, but it probable given the lack of diversity in Hollywood.
But it wasn't his win that many in the Twitter universe were excited about, it was his good looks.
Cary Fukunaga Becomes Instant Emmys Crush, Hot True Detective Director is Internet Sen… https://t.co/SHtMrDgypv pic.twitter.com/Bbp5XaJrkN

— ※†ㅏㅓⓔ ♡ ! π ⓔ™ ※ (@MYKE_ROSS) August 26, 2014
Everyone suddenly swooning over Cary Fukunaga can step off because I called it months ago.

— Anna Holmes (@AnnaHolmes) August 26, 2014
Over at @TheCut, we debated the important topic of Cary Fukunaga's man braids (I am very much for them) http://t.co/TKQPYBE6Y2 #Emmys

— Isabel Wilkinson (@IsabelWilkinson) August 26, 2014
Both US Magazine and BuzzFeed made note of all the social media chatter on Fukunaga.
Cary Fukunaga becomes instant Emmy crush, proclaimed US Magazine.
Cary Yoji Fukunaga is your new dream boyfriend, screamed BuzzFeed.
What do you think? Do you have a new crush?
Related Story: Cary Fukunaga Won't Return for a Second Season.