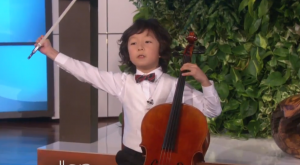 7-year old cello player Justin Yu displayed both is musical talent and natural personality on Ellen this week, reports Audrey.
According to the magazine, Yu is the son of Chinese composer and conductor Ziliang and Korean pianist Rho Aera.
You can see his appearance on Ellen below and read more about Yu in Audrey.