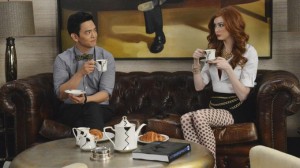 by Ariel Neidermeier
I'm surprised to admit it, but ABC's newest comedy, Selfie, has moments of clever wit. Loosely based on the story of Pygmalion, the show focuses on vapid, social media-obsessed Eliza Dooley (cue My Fair Lady fans for the glaring reference) and her marketing co-worker's quest to 're-brand' her image and teach her how to connect in real time (rather than online).
Marketing guru, Henry Higgs, is played by John Cho and Eliza is played by Karen Gillan. Both actors give sound performances, given the cheesy and often shallow nature of the dialogue they have to work with. That said, there are moments of poignant relevancy in the show's writing. The plot follows Henry's attempts to reeducate Eliza to focus less on her social media 'image' and more on fostering real life interactions. In the process he, in turn, is exposed to the addictive grips of social media, showing that Eliza's obsession is not so far-fetched.
In the second episode of the series, Henry gets pressured into starting a Facebook account. After initially belittling its addictive nature, he unwittingly spends hours stalking past high school classmates and accidentally tags himself in an ex-girlfriend's photo. The embarrassing social media gaff and Henry's decline into Facebook-stalking mania is relatable and funny.
The show meditates on a common critique about today's youth: young people are all yoked to their smart phones, constantly refreshing their Instagram and Facebook feeds to see how many new likes they've gotten on their latest post. Instead of conversing and connecting with the human beings around them, they stare at glowing screens all day. It's a valuable critique to make and, perhaps, we should forgive Selfie's corny packaging and dumb jokes and appreciate it for at least attempting to comment on a flawed social norm worth examining.
Selfie airs on ABC on Tuesdays at 8 PM.