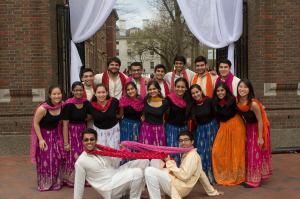 Students from nearly a dozen Ivy League and New England schools performed in a showcase of South Asian dance at Harvard this weekend, reports  The Harvard Crimson.
The show Raunak is in its 13th year and features the cultural diversity of the South Asian community.
Campuses participating along with Harvard included MIT, Brown, Tufts, Columbia, Yale, Dartmouth, Boston College, the University of Pennsylvania, and the University of Massachusetts Amherst.
In addition to traditional South Asian dance, performances included break dance and an improvisational Bollywood dance competition among audience members.
"In Sanskrit, Raunak means 'light' or 'illumination,'"  said Anumita Das, the show's director. "And this is exactly what the teams are doing—lighting up the stage with their different and wonderful styles of dance."
You can learn more about Raunak in The Harvard Crimson.