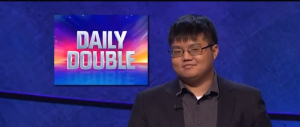 Arthur Chu enters the last day of the Jeopardy Tournament of Champions in second place, reports Cleveland.com
Chu missed the final Jeopardy answer and is $10,000 behind the contestant no one was talking about, Ben Ingram.
Julia Collins, the favorite in the competition, ended the 1st day of the final round in third with $6,400.
Both Collins and Ingram borrowed a page from Chu's strategy book. They moved around the board rather than following the traditional strategy of taking the questions from top to bottom.