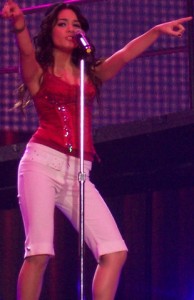 A man accused of sending Vanessa Hudgens "extremely graphic " emails has been slapped with a restraining order requiring him to stay 295 feet away from the star, her boyfriend Austin Butler and sister Stella, reports the New Zealand Herald.
Hudgens told the court Junior Kabongo traveled from Africa to Los Angeles to meet her and said he wanted to marry her.
Among the more graphic e-mails was a reference to the human anatomy and a description of what he would do to her.
More specifics of the email are in the New Zealand Herald.
Hudgens said Kabongo was spotted on her street at least twice.