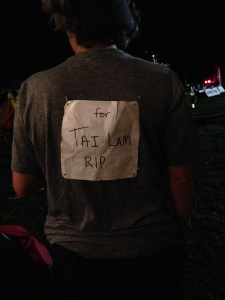 A San Francisco Police investigator described the murder of Tai Lam as the most brutal he has ever seen.
Police believe three men brutally beat and killed the 67-year old homeless man as he slept on the street in his sleeping bag.
Lam was one of hundreds of homeless people who struggle daily to survive life in the streets of San Francisco.
But for one Bay Area woman, Lam is more than just a statistic.
Lam's death inspired the woman to dedicate her 50K race to him.
It's something we often see runners do–remember loved ones who have died by displaying their names on their jerseys as they race.
Its safe to say that rarely has this ever been done for a homeless man.
In her blog What's Possible, the writer who goes by the Twitter handle @Afuntanilla, describes her 50K journey and the thoughts of Lam that raced through her mind.
"This stranger who was broken, bleeding, left dead in the great city by the Bay. How does this happen?" Afuntilla wrote.
Dozens of people die every year on the cold streets of San Francisco, but Afuntilla was particularly touched by this one. Afuntilla has her own personal struggles and in Lam she found someone that inspired her to endure.
Afuntilla talked to Lam as she made his way through the 50K course.
It was as if Lam was running alongside Afuntilla encouraging her to cross the finish line.
"Hey, mr. lam how ya doing! I'm struggling but I'm fightin'. I'm fightin' for ya. I'm fighting for those bastards who attacked you to be caught. I'm fighting for you! I got your back. Let's do this!"
You can read Afuntilla's thoughts in her blog What's Possible.