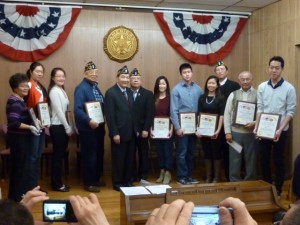 By Shirley N Lew

Last week, the American Legion Lt. B.R. Kimlau Chinese Memorial Post 1291 awarded 12 2014 scholarship recipients in New York City's Chinatown.  They each received $500 dollars and a plaque.
All the winners are all children or relatives of their veteran members, an eligibility requirement.
The scholarship winners are:
Darren Chin, currently attending University of California at Santa Cruz.
Emily W. Chin, currently attending the State University of New York (SUNY) of Albany.
Steven J. Ku, currently attending Cooper Union in New York.
Kelsey V. Lee, currently attending the Maryland Institute of College of Art.
Samantha Louis, currently attending New York University.
Jennifer Ng, currently attending SUNY at Stony Brook.
Victoria Lee-Ngai, currently attending the Macaulays Honors Program at Baruch College.
Bo Xiao , currently attending SUNY Maritime College.
Sisters, Rebecca and Madeline Murwin each received the 2014 Robert S. Wong Chinese Study Scholarship of a $100 dollars. Rebecca completed the Chinese Phonics Class at Mid-Hudson Chinese Language Center, while Madeline completed Chinese Level 2 Class.
The girls' grandfather, veteran Richard Shin, explained during the ceremony that his daughter who is an American born Chinese does not speak Chinese and is an ophthalmologist. When his daughter's practice had an increased number of Chinese speaking patients, it occurred to her that knowing Chinese was important to her family and to her practice.  She thus enrolled her two daughters into Chinese language classes.
The ceremony began with remarks by the Scholarship Committee Chairperson Wayne Hom, Chairman Peter Woo and Post Commander Mark Eng.  The event included a free lunch served by the Women's Auxiliary.
Next June, Lt. Kim Lau Post 1291 will celebrate its 70th anniversary and publish their commemorative journal, which is available only every five years. I am honored that next year's commemorative journal will include an article I wrote about Lt. Kimlau Post 1291 three years ago when I was a blogger for Our Chinatown. (OurChinatown.org is no longer active)
For more information on American Legion Lt. B.R. Kimlau Chinese Memorial Post 1291 on 191 Canal Street, call 212- 925-5528, or visit:  www.LtKimlau.com.
[photoshow]