Photos by Shirley N Lew
Family, friends, police and community members lined up around the block Saturday to pay their respects at the wake of New York Police Officer Wenjian Liu, reports Newsday.
The snow and the rain didn't keep mourners from attending the wake. An equally large crowd is expected today at the funeral.
The service is scheduled to begin at 11 a.m. in Brooklyn. Liu, who was gunned down along with his partner Rafael Ramos, will be buried today near where his partner was buried last week.
"His wife, the widow, looks absolutely devastated," said Rep Peter King (R-NY). "Very somber, quiet sorrow. Their bodies were hunched very tightly. Very controlled sadness."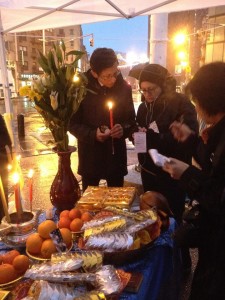 A candlelight service was held in Chinatown Saturday evening for those who couldn't attend the wake in Brooklyn. About a 100 people attended the ceremony to honor both Liu and Ramos.
You can read about how police officers reacted at the wake when they saw Mayor Bill de Blasio in Newsday. Last week at Ramos' funeral, officers held a silent protest to express their opposition to recent remarks de Blasio has made about the Eric Garner case.
You can watch the clip below from WABC about preparations this morning for today's funeral.