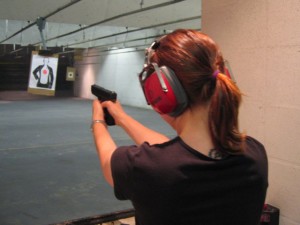 I'm not exactly sure how they're getting away with this, but a shooting range in Hot Springs, Arkansas is a Muslim-free zone, reports the Daily Kos(file photo).
Gun Cave Indoor Firing Range in Hot Springs, Arkansas declared in the fall the action was prompted by the Boston Marathon bombing and the September 11th attacks.
A father and son who visited the range this week say they were turned away, even though they are not Muslim.
The son who described himself as "brown" and who declined to give his name recounted what happened.
"When we went in, a woman asked, 'Where are you guys from?' We told her we were from Hot Springs. She said, "this is a Muslim free shooting range," so if we are [Muslim] and if we don't like the rule, then leave. We said that we're not Muslim, but my dad asked, 'Why is it Muslim free?' and they started having a conversation. Then, all of a sudden, I don't know what went wrong, but she stopped us from filling out the paperwork and said 'I don't think you guys should be here.' She told us to leave or she'd call the cops on us."