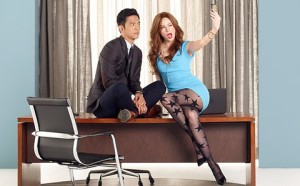 The movement to save Selfie got a dose of reality this week.
ABC announced it would not be bringing back the fan favorite despite a vigorous campaign to save it.
The announcement from ABC entertainment president Paul Lee shouldn't surprise many.  Even Save Selfie movement organizers had weeks ago shifted the target of the campaign away from ABC to Hulu and other outlets who might pick up the show for its digital platforms.
"Unfortunately once we make those decisions it's impossible to go back on them," Lee said to Zap2It. "It was a very difficult decision because it was a very, very good show."
Erika Lawson who launched the Change.org petition to save Selfie is urging fans to keep the pressure up on Hulu to pick up the show and to Warner Bros TV to find a new venue.
"Our fight to find a new home for the show continues," wrote Lawson in a message to the more than 54,000 people who signed her petition.  "It is essentially up to Warner Bros, so it is crucial for us to contact them with requests for them to shop the series around to different networks. In my opinion, our best bet is with Hulu. The show was extremely popular throughout its stay on the streaming service and the last episode remained THE most popular episode on Hulu for two straight days."
To contact Hulu, call them at 877-485-8411 or email a request for them to pick up the series at [email protected] or through hulu.com/help. You may also mail them at…
Main Office for Hulu
2500 Broadway
Santa Monica, CA
To contact Warner Bros TV, tweet them at @warnerbrostv or call 1-818-977-8700 for Peter Roth.
To contact Netflix, call them at 800-585-8131 or chat with them at https://help.netflix.com/help. Put in a request for them to pick up the series.