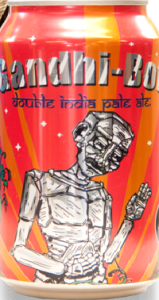 Few would associate the name Mahatma Gandhi with beer, but that didn't stop a New England Brewing Company from naming a beer after him.
The Consumerist reports that the company has agreed to change the name of its Gandhi-Bot beer following a meeting with Indian American small business leaders and State Representative Prasad Srinivasan of Connecticut.
"We have begun the process of renaming and rebranding this beer which may take up to three months," the company said in a statement. "Taking these steps will allow us to express our support for the Indian-American community while also limiting any economic losses."
Srinivasan applauded the decision.
"I am very glad that New England Brewing Co. heard the concerns of the Indian American community. Our sensitivity on this important issue has been addressed and I am looking forward to the early release of their renamed and re-branded product."
The company had earlier apologized for the name, but did not offer to change it.
RELATED STORY
Beer Company Apologizes for Putting Name of Gandhi on Beer Can