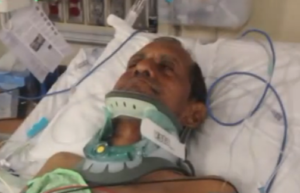 Sureshbhai Patel arrived in the United States just two weeks ago to assist with his 17-month old developmentally delayed grandchild in Alabama.
Today Patel is in a hospital bed paralyzed after going for a neighborhood walk and being stopped by police, reported WHNT.
His son Chirag Patel says three Madison police officers stopped and questioned his father who only speaks a few words of English.
The Patels alleged one of the officers pulled Sureshbhai's arm back and forced him into the ground, his face hitting the concrete sidewalk.  He underwent cervical fusion surgery and was left partially paralyzed.
Officers say Sureshbhai tried to pull away as they tried to pat him down. They were investigating reports of a suspicious person at the time.
You can hear the son's account of the incident in the video below from WHNT.
(Correction: An earlier version of the story incorrectly reported the incident happened in Wisconsin)